September Projects 2017 / Projekti septembar/rujan 2017
Please clicks on the links to get more information, photos and news reports / Molimo kliknite na naziv projekta za više informacija, fotografije i novosti
First of all BAB would like to thank everyone who got involved to make this year's projects possible, the volunteers, partner organizations, donors and beneficiaries of our projects. Everyone involved made it possible to create smiles from so many different people. We all had an amazing experience at very little financial cost. This is partly due to all BAB volunteers being self funding. It is also due to our partner organizations providing materials and sharing costs.
We realize our mandate of working in partnerships and identifying needs from the people affected from our work is the correct way to go forward for BAB. We are planning more projects next year and will keep you informed.
But first here is information and photos about this year's projects. You will notice when we work with refugees or orphans we do not include front facial photos. This is to not put them at risk.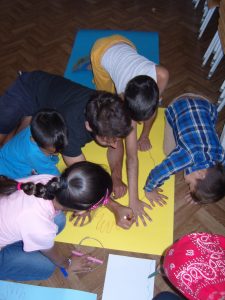 Najprije, BAB želi zahvaliti svima koji su se uključili u projekat ove godine na bilo koji način: volonterima/kama, partnerskim organizacijama, donatorima i korisnicima naših projekata. Svi uključeni su omogućili toliko lijepih osmijeha… Svima nam je ovo bilo predivno iskustvo, za tako malo finansijskih sredstava. Ovo je dijelom bilo moguće zahvaljujući BAB volonterima, koji su sami sebe finansirali, ali i zahvaljujući partnerskim organizacijama koje su obezbijedile materijale i podijelile troškove.
Razumijemo da je rad u partnerstvu i procjena potreba onih za koje radimo pravi put da idemo dalje u BAB-u. Planiramo više projekata iduće godine i pravovremeno ćemo vas obavještavati.
Ali, prije svega, evo informacija i fotografija ovogodišnjih projekata. Razumjet ćete da, kad projekti uključuju rad sa izbjeglicama ili djecom bez roditelja, ne uključujemo portrete niti fotografije sprijeda.
Street art festival. Mostar, Bosnia Herzegovina / Ulični festival. Mostar, Bosna i Hercegovina
Mostar orphanage mural / Mural u sirotištu Mostar
Pirot Refugee camp. Serbia / Izbjeglički kamp Pirot. Srbija.
BAB decided this year to expand to also working with refugees along the Balkan route. We had heard about this camp near Pirot which has a large number of children and young people (including many unaccompanied minors) and as we had been especially focused in youth work it seemed a natural decision to provide a project there for all inhabitants of the camp. A new small NGO organically developed from BAB and this is Cycle Across Borders Europe.
https://www.cycleacrossborderseurope.org/
The volunteers from CABE who are keen cyclists decided to cycle from Mannheim in Germany to the camp. They cycled around 1800km in twelve days for two reasons. One was to raise funding for our projects but also to highlight the issue of crossing borders. They crossed many borders along the way and were able to spread the message of our work.
Upon us all arriving we started work straight away. Our amazing partner organization Refugee foundation Serbia facilitated our permissions and were able to get nineteen bicycles funded for the project. There were ten new bicycles and nine used bicycles purchased. BAB coordinated between all the NGO's involved and designed the entire program. Our volunteers from CABE ran the bicycle workshops.
BAB ove godine odlučuje proširiti djelokrug na rad sa izbjeglicama tzy. Balkanske rute. Čuli smo za kamp blizu Pirota sa velikim brojem djece i mladih, uključujući velik broj mladih bez pratnje odrsalih, i posebno smo se posvetili radu s njima, i uraditi projekat za njih je izgledalo kao logična odluka. Mala nevladina organizacija se prirodno razvila iz BAB-a, a to su "Biciklisti preko granica kroz Evropu".
https://www.cycleacrossborderseurope.org/
Volonteri "Biciklista" – posvećeni biciklisti koji su odlučili voziti put od Majnhajma u Njemačkoj do kampa, prešli su 1800 km u dvanaest dana iz dva razloga: da prikupe sredstva za naše projekte i drugi, da skrenu pažnju na pitanje prelaska granica. Prešli su mnogo granica duž puta kako bi prenijeli poruku o našem radu.  Odmah po dolasku, počeli smo sa našim radom. Zahvaljujući našoj nevjerovatnoj partnerskoj organizaciji – Fondaciji za izbjeglice Srbija
http://refugeesfoundationserbia.com/
obezbijeđene su nam dozvole za rad i devetnaest bicikala, finansiranih projektom: deset novih i devet polovnih. BAB je koordinirao sve nevladine organizacije uključene u cijeli projekat, a naši volonteri su vodili biciklističke radionice.
Bicycle maintenance, art and nature workshops / Održavanje bicikala i umjetničke/radionice u prirodi 
Bike riding lessons and 7m bike ride up a mountain / Radionice vožnje bicikla i 7 km uzbrdo 
Free bicycle maintenance workshop for the people of Pirot / Besplatne radionice održavanja bicikala za ljude iz Pirota
BAB believes no-one should have to live in a refugee camp and more importantly the issues and effects of mass migration need to be addressed by the governments causing it.
We do not support the idea of refugee camps but also believe these people should not be left alone or ignored in these places. We hope to be able to create more projects next year.
BAB vjeruje da niko ne zaslužuje živjeti u izbjegličkom kampu. Još važnije, pitanja i efekti masovnih migracija se moraju riješiti od strane vlada koje ih uzrokuju.
Ne podržavamo ideju izbjegličkih kampova. Ali vjerujemo da se ljudi ne smiju ostaviti usamljenima ili nevidljivima na takvim mjestima. Nadamo se da ćemo moći organizovati više projekata iduće godine.