For 2018 so far we have three projects in the planning stages.
Bosnia Herzegovina (June)
The first two weeks of June we will run two projects simultaneously in the divided city of Mostar in Bosnia Hercegovina. We will bring international street artists to brighten the city.
Here is a Euro news article about the festival: http://www.euronews.com/2017/07/17/mostar-s-street-art-is-overcoming-division-and-destruction
https://www.facebook.com/StreetArtsFestivalMostar/
https://www.instagram.com/streetartsfestivalmostar/
Our first two artists have confirmed.
OKIDOKI who was our first street artist in 2017 will return.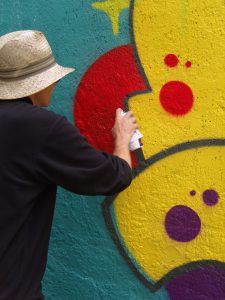 Ale Senso who is an Italian artist based in Berlin who took part in the very first Mostar Street art Festival will also return this year with BAB.
https://www.facebook.com/ale.senso
We will also bring a team of volunteers to run programs at the local children's home. We want to offer a variety of programs for the children and we will inform you in more detail as everything is finalized.
http://djecijidom-mostar.ba/index.php/en/
Bosnia Herzegovina (September)
In September we will organize our first international exchange. This will take place between the cities of Berlin, Germany and Mostar. This is an exchange for women interested in art and activism. This is our first project our partners have applied for official funding. We will find out in April/May if our application is successful. This project is being developed together with the Youth Council of Mostar and Nature Friends, Germany.
http://www.annalindhfoundation.org/members/youth-council-city-mostar
https://en.wikipedia.org/wiki/Friends_of_Nature
All these projects are now in the planning stages and more information will follow as they are finalized.